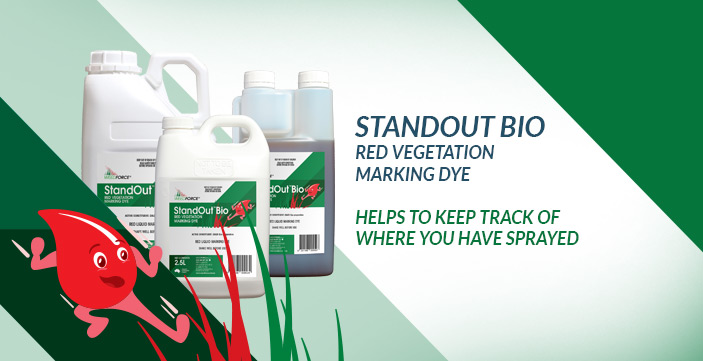 Shop with confidence with our 30 day no hassle return policy*

More Info
BUY ONLINE

1lt StandOut Bio red marking dye
100L
Water
100ml
100ml per 100 Litres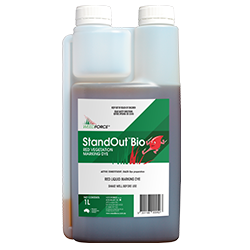 2.5lt StandOut Bio red marking dye
100L
Water
100ml
100ml per 100 Litres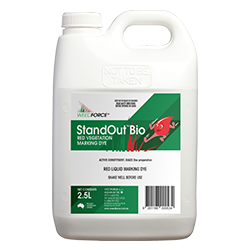 5lt StandOut Bio red marking dye
100L
Water
100ml
100ml per 100 Litres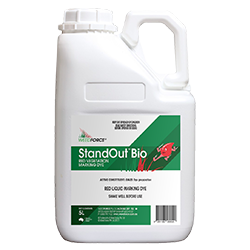 Product information
StandOut Bio
is a highly efficient red liquid vegetation marking dye which can be added to water to identify areas which have been sprayed or areas or to be sprayed.
Benefits
An effective red liquid dye for marking vegetation
Avoids missing weeds improving the weed control operation.
Displays deep red colour on difficult to mark foliage
Excellent for use on blackberry and gorse
Low toxicity to aquatic organisms
Does NOT contain rhodamine
Active Ingredients
Diazo Dye Preparation
Where to Use
For use as a vegetation marking tool


Mixing Rates and Coverage
At typical use rates mix 100 ml of

StandOut Bio dye

with 100 litres water.


Useful Tank Mixes
Withholding Periods/Stock Restrictions
Refer to the product label
You Might Also Need
Always refer to and follow the product label before using this product