Grass Clear Grass Herbicide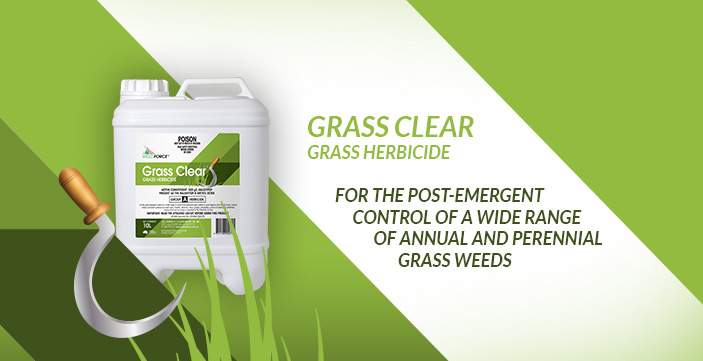 Shop with confidence with our 30 day no hassle return policy*

More Info
THIS PRODUCT IS ONLY
AVAILABLE IN STORE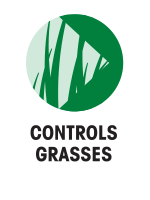 Product information
A post emergent grass herbicide for the control of a wide range of grass weeds in lucerne, medic and clover pastures.
Benefits
Selective grass control in lucerne, medic and clover pasture.
Active Ingredients
520g/L Haloxyfop
(present as Haloxyfop-R-Methyl Ester)
A
Where to Use
Lucerne, Medic and Clover Pastures
Grass Clear herbicide will severely damage or kill grasses. DO NOT apply on lucerne, medic and clover pastures where grass species want to be maintained.
Weeds Controlled
Barley Grass
Annual Ryegrass
Brome Grass
Wild Oats
Barnyard Grass
Johnson Grass
The level of control achieved by the application of Grass Clear will depend on the resistance status of the grass being treated. Plants resistant to Grass Clear will not be controlled.
Mixing Rates and Coverage
Boom Spray Application
37.5-100 ml/ha Plus Recommended Wetting Agent
Recommended Wetting Agent:
A wetting agent is required with the application of Grass Clear. The registered wetting agents are:
Uptake Spraying Oil

@ 0.5L/100L of spray solution.
or
Weed Force-Wetter 1000

@ 200ml/100L of spray solution.
Mixing Instructions:
The Glass Clear rate will vary depending on the wetting agent used. Refer to the Grass Clear label for more details on rates and wetting agents required.
How to Apply
Apply Grass Clear in sufficient water to obtain good coverage. It should be applied by an accurately calibrated ground rig or aircraft delivering droplets with a VMD of 200-300 microns.
The following spray volumes are recommended:
Ground Application:
50-150L/ha
Aerial Application:
30L/ha Minimum
Withholding Periods/Stock Restrictions
Stock Food Witholding Periods:
Medic and Clover Pasture:
DO NOT GRAZE OR CUT FOR STOCK FOOD FOR 7 DAYS AFTER APPLICATION
Lucerne:
DO NOT GRAZE OR CUT FOR STOCK FOOD FOR 21 DAYS AFTER APPLICATION
Restraints/Cautions
DO NOT
apply to weeds which may be stressed (not actively growing) due to prolonged periods of extreme cold, moisture stress (waterlogged or drought affected), poor nutrition or previous herbicide treatment as reduced levels of control may result.
DO NOT
spray if rain is likely to occur within one hour
You Might Also Need
Always refer to and follow the product label before using this product
Facebook