Broad Sweep broadleaf herbicide
Shop with confidence with our 30 day no hassle return policy*

More Info
BUY ONLINE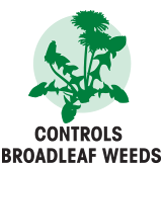 1 Litre BROAD SWEEP herbicide (equivalent to Kamba M)
2000
m2
Pack treats 2000m2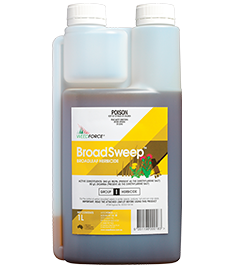 2.5 Litre BROAD SWEEP herbicide (equivalent to Kamba M)
5000
m2
2.5L treats 5000m2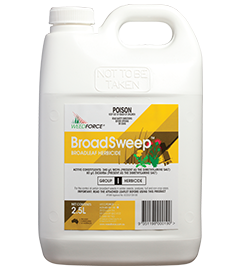 5 Litre BROAD SWEEP herbicide (equivalent to Kamba M)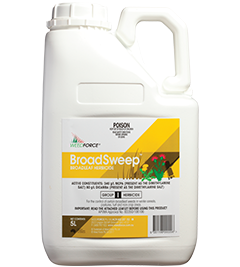 Product information
For the control of certain broad leaf weeds in grass pastures,turf ( except Buffalo grass) and non-crop areas as detailed in the product label.
For Use In
Grass Pastures
Turf & lawns ( not Buffalo varieties)
Non-crop areas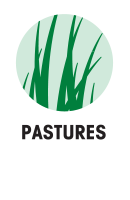 Turf situations: Do not apply to Buffalo Grass as severe damage will result

Broad Sweep herbicide will severly damage or kill clover, lucerne and medics. so should not be used in pastures where maintaining these species is desired.
Target Weeds
Controls broadleaf weeds in lawns, turf and pastures & including:-
Dock
Clover
Ragwort
Thistles - many species
Heliotrope
Bindy-eye
Dandelion
Cape weed
Catsear
Bathurst burr
Horehound
Khaki weed and
many other weeds as listed on the label
Refer to the product label for a full list of weeds controlled
Only apply to actively growing weeds.

Dot not apply if rain seems likely to occur within 4 hours
Coverage
Broad Sweep Pasture Weed Measure Guide
The example used below is for weed control using hand gun application for spot spraying. Always refer to the product label to determine the appropriate rate and application method for your situation
Coverage: For handgun/spot spraying spray mix should be applied at 1500 litres per hectare. This is equivalent to 15 litres covering 100 square metres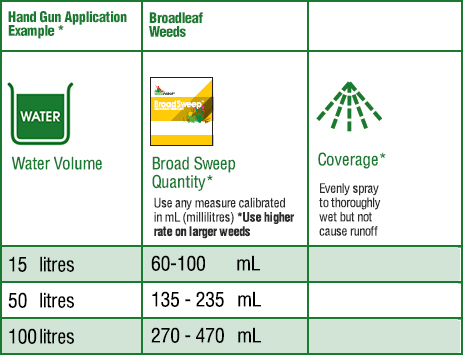 * example only - always read the label prior to using to determine the correct application method and rate for your situation.
* NB It is important to apply this product accurately. Application rates in excess of that recommended on the label can
cause damage to pasture and non-target species. and may prevent regrowth of such for many months.
Benefits
Effective broad spectrum broad leaf weed control
Excellent thistle control on many species
Rapid brown-out of broadleaf weeds
Good option for controlling mixed stands broadleaf weeds in pastures

Stock Safe / Restrictions
Do not graze or cut for stock food 7 days after application

Care should be taken when grazing treated areas as some noxious weed may become more palatable after spraying.cc
Always refer to and follow the product label before using this product
Tips and hints to help you get results like the professionals
The best products to prevent weeds from coming back for up to 12 months
The best products to get rid of existing weeds
Information and resources to help you get the best results
Facebook