Big Cat Broadleaf Herbicide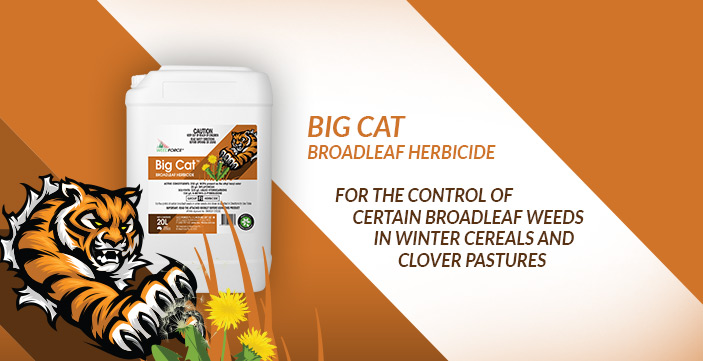 Shop with confidence with our 30 day no hassle return policy*

More Info
THIS PRODUCT IS ONLY
AVAILABLE IN STORE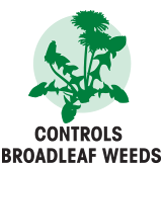 Product information
For the control of various broadleaf weeds in clover-based pasture and winter cererals
Benefits
Sub Clover safe
Controls Capeweed (small to medium size)
Controls Wild Radish
Controls Toad Rush and many other weeds
Active Ingredients
250 g/L MCPA
(present as the ethyl hexyl ester)
FI
Where to Use
Grass and Clover based pastures
Winter cereals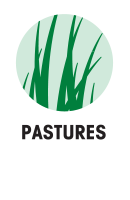 Weeds Controlled
Capeweed
Wild Radish
Mustards
Wild Turnip
Turnip Weed
Prickly Lettuce
Toad Rush
and others - refer to label for full list
Mixing Rates and Coverage
250mL to 1L per hectare
How to Apply
Application
A minimum of 50L of water per hectare should be used, however, for optimum results water rates of 70-100L/ha are recommended. Increase the water volume if weed infestation is heavy or crop cover is dense. Complete coverage of weeds is essential.
Aircraft (NSW, Vic, SA only)
Apply in a minimum of 30L water per hectare. Effective control will only be achieved where good coverage of leaf surface is achieved.
Withholding Periods/Stock Restrictions
DO NOT GRAZE OR CUT FOR STOCK FOOD FOR 7 DAYS AFTER APPLICATION
Restraints/Cautions
RESTRAINTS
DO NOT apply to crops or weeds, which are stressed due to dry or excessively moist conditions.
DO NOT apply to crops under stress due to disease or insect damage.
DO NOT apply to frost affected crops or if frosts are imminent.
DO NOT apply when heavy rain is expected within 4 hours.
You Might Also Need
Always refer to and follow the product label before using this product
Facebook